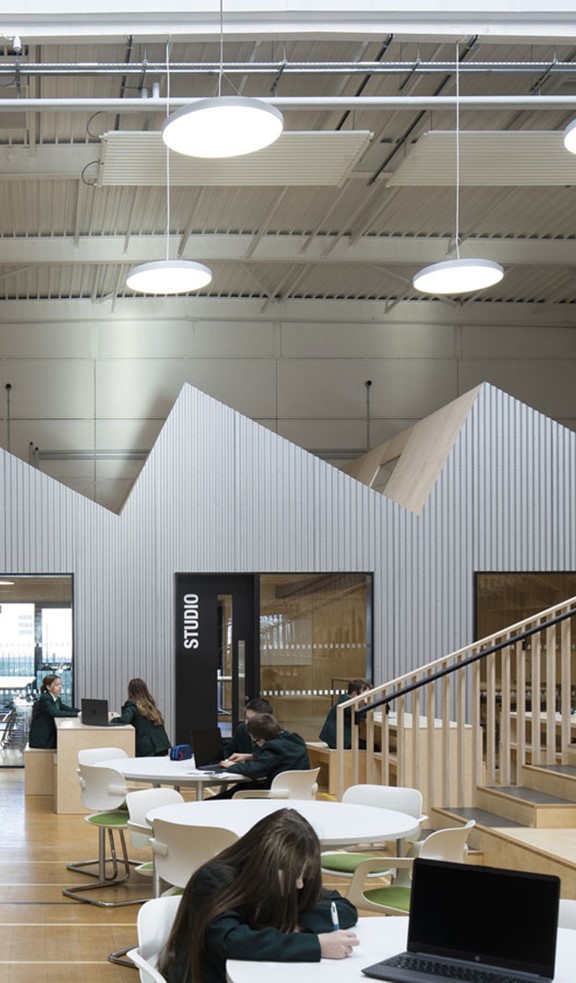 Wardle Academy
Rochdale
Wardle Academy
Rochdale
Luminaires Used - Noma, LDB Circular, ZMP, Lola, LD7016, Hemera Square, Henry, Dominique, WPZ, Banda, Exit Signage
AJ Architects winner of School Project of the Year WaterSHED, located in Wardle Academy, is a sustainable conversion of an outdated school sports hall into a modern social teaching and learning centre.
With two new adaptable classrooms, a design technology studio and a central informal learning area and café, this project establishes a new community space in the centre of the school. Additionally, a processional staircase with built-in seating offers extra dining space and audience seating for performances.
The design for WaterSHED utilises low-tech, low-carbon construction to create flexible teaching modules which integrates with LDL Lighting's pledge for commitment to carbon net zero.
A wide range of luminaires from LDL were used to bring this application to completion.
Most notably our stunning high-quality Noma luminaire, a circular pendant suitable for suspending on ceilings and walls.
As well as this variety of surface mounted bulkheads were used for this project including our LDB Circular, ZMP, Lola and LD7016. Other luminaires included the Hemera Square and Henry downlighters, surface mounted Dominique's, WPZ, Banda and Exit Signage.