Premium Back-lit Panel


Brooklyn
Premium Back-lit Panel


Brooklyn
Product Overview
The Brooklyn is a premium back-lit luminaire suitable for recessed modular ceilings, surface mounting or suspending/ Fitted with integral control gear and the latest LED technology by Philips, Brooklyn produces up to 126 lumens per watts.
There are two diffusers available, opal frosted for circulation areas and a microprism for LG7 compliance, suitable for offices an classrooms.
Various control options are available including fixed output, DALI dimmable and smart wireless systems, such as Casambi and MY Mesh, as well as integral emergency, Monitor self-test and DALI addressable emergency.
Brooklyn
Key features
IP20 suitable for internal environments
Impact rating of IK08
Efficacy of up to 126lm/W
Nominal life-time of 50,000 h (L80/B10)
Colour stability with 3 step MacAdam
Opal frosted diffuser, 3mm polycarbonate TP(a)
Microprism diffuser, 2mm PET TP(a)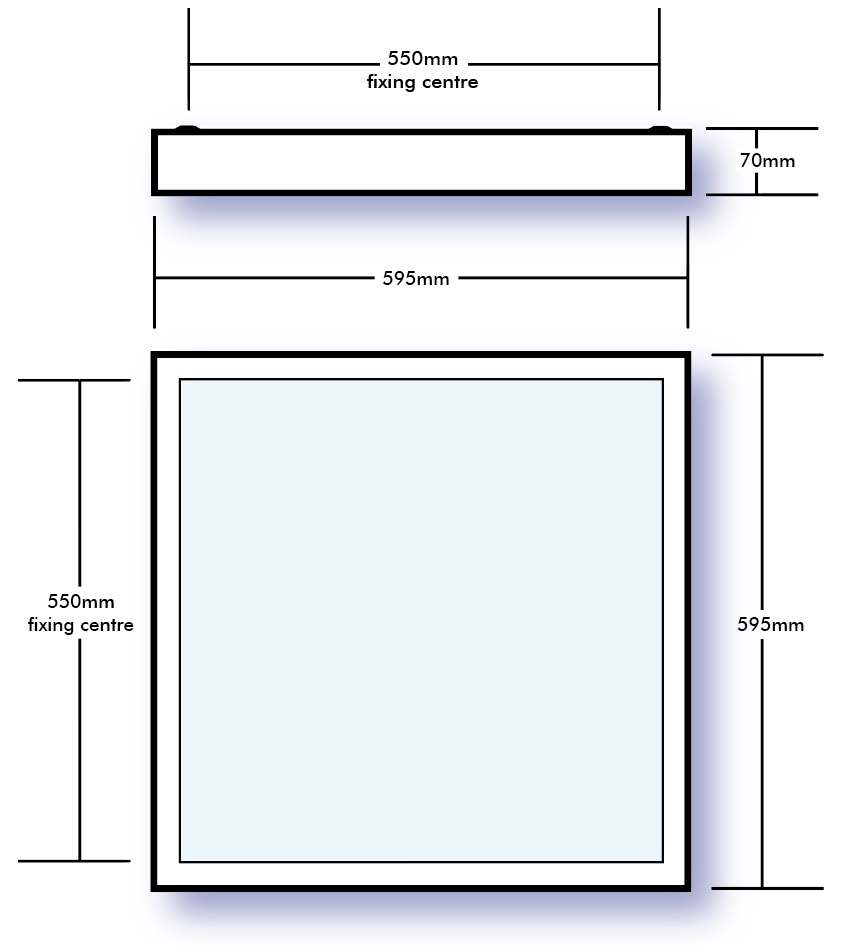 Options
•   4000K supplied as standard                         /4
•   For 3000K suffix                                         /3
•   For DALI dimmable system suffix                 /DIM
•   For Casambi enabled suffix                          /CAS
•   For wireless DALI suffix                               /WD
•   For 3hr integral emergency suffix                 /EMR
•   For 3hr Monitor self-test emergency suffix    /MON
•   For DALI addressable emergency suffix         /EMP
•   For wireless DALI addressable emergency     /WAE
•   i.e.: Brooklyn, opal diffuser, 4335 lumens, 35W, 4000K, c/w 3 hr emergency = BRO/66/OP/4340/4/EMR

•  CRI >80 supplied as standard, CRI >90 available upon request 
Accessories
•   Wire suspension kit                                      BRO/WIRE
| Part code | Output (lm) | Power (W) | Efficacy (lm/W) | Colour temp (K) | Length (mm) | Width (mm) | Height (mm) | Weight (kg) |
| --- | --- | --- | --- | --- | --- | --- | --- | --- |
| BRO/66/OP/1840/4 | 1840 | 15 | 123 | 4000 | 595 | 595 | 70 | 6.1 |
| BRO/66/OP/3140/4 | 3144 | 25 | 124 | 4000 | 595 | 595 | 70 | 6.1 |
| BRO/66/OP/4340/4 | 4335 | 35 | 126 | 4000 | 595 | 595 | 70 | 6.1 |
| BRO/66/OP/6040/4 | 6039 | 49 | 123 | 4000 | 595 | 595 | 70 | 6.1 |
| BRO/66/OP/7180/4 | 7179 | 59 | 121 | 4000 | 595 | 595 | 70 | 6.1 |
| BRO/66/OP/8110/4 | 8108 | 68 | 119 | 4000 | 595 | 595 | 70 | 6.1 |
| BRO/66/MP/1710/4 | 1710 | 15 | 114 | 4000 | 595 | 595 | 70 | 5.8 |
| BRO/66/MP/2940/4 | 2938 | 25 | 116 | 4000 | 595 | 595 | 70 | 5.8 |
| BRO/66/MP/4040/4 | 4039 | 35 | 117 | 4000 | 595 | 595 | 70 | 5.8 |
| BRO/66/MP/5620/4 | 5621 | 49 | 115 | 4000 | 595 | 595 | 70 | 5.8 |
| BRO/66/MP/6700/4 | 6700 | 59 | 113 | 4000 | 595 | 595 | 70 | 5.8 |
| BRO/66/MP/7550/4 | 7553 | 68 | 111 | 4000 | 595 | 595 | 70 | 5.8 |
Tell me more
About this product