Product Overview
The LED3 surface LED is a non-maintained 3 hour emergency bulkhead suitable for ceiling mounting applications up to 8 meters high.
There are two colours to choose from, white and black and two optics available within the range, open area 110° (207 lumens) or corridor 125° x 50° (197 lumens) optic making the luminaire suitable for various applications. The standard 3 hour emergency is supplied with NiCd batteries.
Monitor self-test and DALI are supplied with Lithium Iron Phosphate (LiFePO4) batteries.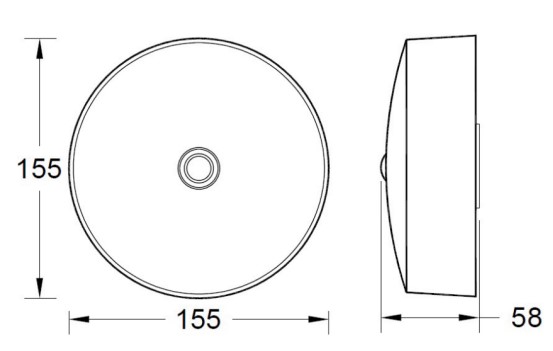 Options
For white finish suffix /WHI
For black finish suffix /BLK
For open area optic suffix /OA
For corridor optic suffix /CO
For 3hr self-test emergency suffix /ST
For 3hr self-contained DALI emergency suffix /EMP
i.e. LED3/CIR/WHI/OA/ST, LED3 circular white bulkhead, open area optic, c/w 3 hr self-test emergency.