Product Overview
A versatile industrial LED hi-bay luminaire with a modern construction and high impact resistance.
Optics: 40°, 60°, 90°, 120°, 30x70° light beam, silicone rubber sealing, impact resistance.
Trent
Key features
IP65 suitable for external environments
Impact rating of IK08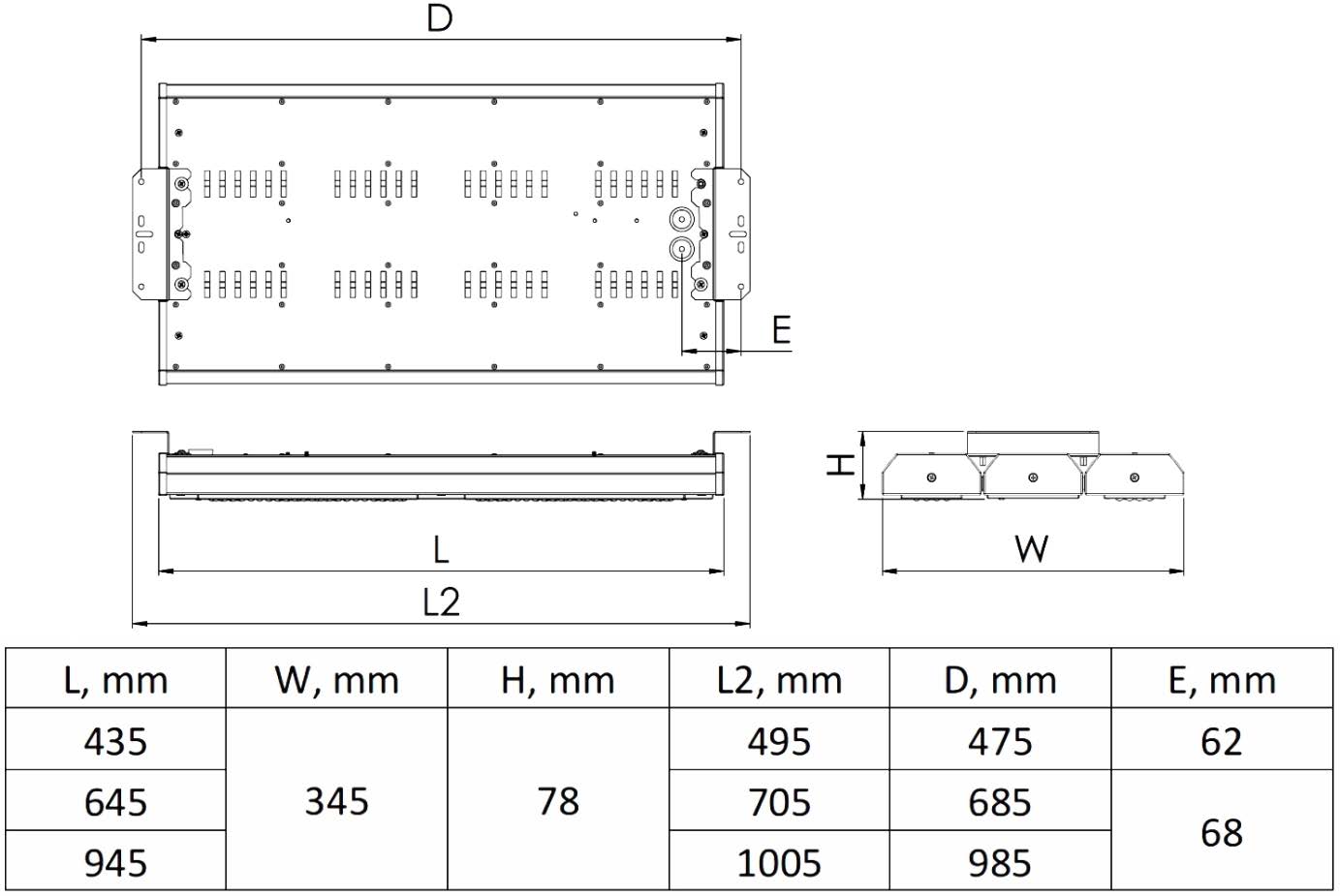 Options
For 3000K optic suffix /3
For 4000K optic suffix /4
For 40 deg optic suffix /40
For 60 deg optic suffix /60
For 90 deg optic suffix /90
For 120 deg optic suffix /120
For high rack 30x70deg optic suffix /HR
For DALI dimmable suffix /DIM
For Casambi Enabled suffix /CAS
For emergency suffix /EMR
For Monitor self-test suffix /MON
For addressable emergency suffix /EMP
i.e. TRE/2/25400/4/60 =
Tremt Hi Bay 645mm Length, 25363lm, 149W, 4000K c/w 60 deg optics fitted.
| Part code | Output (lm) | Power (W) | Efficacy (lm/W) | Colour temp (K) | Length (mm) | Width (mm) | Height (mm) | Weight (kg) |
| --- | --- | --- | --- | --- | --- | --- | --- | --- |
| TRE/1/6650 | 6636 | 42 | 159 | 4000 | 435 | 345 | 78 | 2.8 |
| TRE/1/7550 | 7530 | 48 | 157 | 4000 | 435 | 345 | 78 | 2.8 |
| TRE/1/9300 | 9285 | 61 | 152 | 4000 | 435 | 345 | 78 | 2.8 |
| TRE/1/11000 | 11000 | 73 | 152 | 4000 | 435 | 345 | 78 | 2.8 |
| TRE/1/12700 | 12681 | 85 | 149 | 4000 | 435 | 345 | 78 | 2.8 |
| TRE/2/15100 | 15061 | 94 | 160 | 4000 | 645 | 345 | 78 | 4.3 |
| TRE/2/18600 | 18570 | 119 | 156 | 4000 | 645 | 345 | 78 | 4.3 |
| TRE/2/22000 | 21999 | 145 | 152 | 4000 | 645 | 345 | 78 | 4.3 |
| TRE/2/25400 | 25363 | 171 | 156 | 4000 | 645 | 345 | 78 | 4.3 |
| TRE/3/27900 | 27854 | 179 | 156 | 4000 | 945 | 345 | 78 | 6.5 |
| TRE/3/33000 | 32999 | 218 | 152 | 4000 | 945 | 345 | 78 | 6.5 |
| TRE/3/38050 | 38044 | 256 | 149 | 4000 | 945 | 345 | 78 | 6.5 |
Tell me more
About this product