Product Overview
The Leila is a high quality spotlight ideal for retail, hospitality and commercial lighting applications.
Fitted with an in-track driver the Leila gives a minimalistic look, ideal for applications that require a flexible solution.
Accent lighting adds texture. focus and shape to general lighting. by creating shadows and highlights for dramatic effects.
The range incorporates both a 4000K and a 3000K colour temperature an the various configurations including DALI dimmable Casambi enabled.
Leila
Key features
IP20 suitable for internal environments
Impact rating of IK02
Efficacy of up to 119lm/W
Nominal life-time of > 50,000 h (L80/B50)
Colour stability with 3 step MacAdam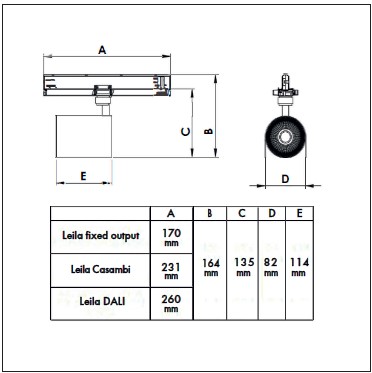 Options
For 24° reflector suffix /24D
For 40° relfector suffix /40D
For 60° reflector suffix /60D
For black finish suffix /BLK
For white finish suffix /WHI
For DALI dimmable sufix /DIM
For Casambi enabled suffix /CAS
i.e. Leila trackspot, 28w, 3002lm, 3000k, 40° reflector, black finish, Casambi enabled = LEI/3000/3/40D/BLK/CAS
CRI 80 as standard, CRI90 available on request.
| Part code | Output (lm) | Power (W) | Efficacy (lm/W) | Colour temp (K) | Weight (kg) |
| --- | --- | --- | --- | --- | --- |
| LEI/1600/3 | 1604 | 14 | 117 | 3000 | 1.3 |
| LEI/1640/4 | 1644 | 14 | 119 | 4000 | 1.3 |
| LEI/2230/3 | 2226 | 19 | 116 | 3000 | 1.3 |
| LEI/2280/4 | 2282 | 19 | 119 | 4000 | 1.3 |
| LEI/3000/3 | 3002 | 28 | 109 | 3000 | 1.3 |
| LEI/3080/4 | 3079 | 28 | 112 | 4000 | 1.3 |
Tell me more
About this product