Product Overview
The Isla LED recessed modular incorporates the latest in LED technology and design resulting in a commercial recessed LED modular luminaire that meets the highest of specifications.
Tridonic LED boards and power supplies are fitted with a polycarbonate computer designed curved diffuser and specifically designed reflectors are fitted to achieve excellent lumen performance whilst maintaining a low level of glare.
The result is a pleasing appearance and excellent performance which makes the luminaire ideal for most commercial applications.
The range incorporates various wattages and lumen outputs with a 4000K CRI 80 configuration as standard but 3000K and CRI 90 variants are also available on request.
Various variations are available including DALI dimmable, self-contained emergency and DALI emergency.
Isla
Key features
IP20 suitable for indoor environments
Impact rating of IK04
Efficacy of up to 131lm/W
Nominal life-time of > 72,000 h (L80/B10)
Colour stability with 3 step MacAdam
High colour rendering index CRI > 80
Emergency BLF = 380 lm
LG7 compliant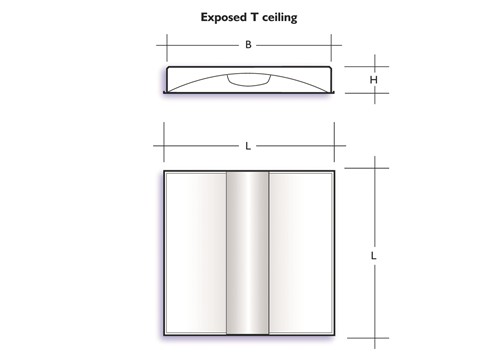 3000K & CRI 90 available on request.
Options
For DALI dimmable suffix /DIM
For self-contained emergency suffix /EMR
For monitor self-test emergency suffix /MON
For DALI emergency suffix /EMP
i.e. ISLA/24/84/DIMM/EMP
Isla LED recessed luminaire, 24W, 4000k, DALI dimmable c/w DALI emergency.
| Part code | Output (lm) | Power (W) | Efficacy (lm/W) | Colour temp (K) | Length (mm) | Width (mm) | Height (mm) | Weight (kg) |
| --- | --- | --- | --- | --- | --- | --- | --- | --- |
| ISLA/2490/4 | 2488 | 19 | 131 | 4000 | 595 | 571 | 84 | 3.17 |
| ISLA/2950/4 | 3060 | 23 | 133 | 4000 | 595 | 571 | 84 | 3.17 |
| ISLA/3420/4 | 3416 | 26 | 131 | 4000 | 595 | 571 | 84 | 3.17 |
| ISLA/3880/4 | 3882 | 31 | 125 | 4000 | 595 | 571 | 84 | 3.17 |
| ISLA/4330/4 | 4331 | 35 | 124 | 4000 | 595 | 571 | 84 | 3.17 |
| ISLA/4750/4 | 4746 | 38 | 125 | 4000 | 595 | 571 | 84 | 3.17 |
Tell me more
About this product