Product Overview
The Elijah track mounted spotlight is made with an aluminium die casting heatsink & gearbox with a powder coated finish, an acrylic trim and is fitted with a slim in-track driver for a minimalistic look.

A highly efficient 3000K LED COB is fitted which gives a high colour rendering of CRI > 90 and can be fitted with 15°, 20° and 35° optics.

Various louvre accessories are available, making the Elijah suitable for applications such as museums, art galleries, exhibitions, restaurants and bars.

The Elijah can be fitted with a fixed output, DALI or Casambi in-track driver.
Elijah
Key features
IP20 suitable for internal environments
Impact rating of IK06
Efficacy of up to 123lm/W
Nominal life-time of 50,000 h (L80/B10)
Colour stability with 3 step MacAdam
Very high colour rendering index CRI > 90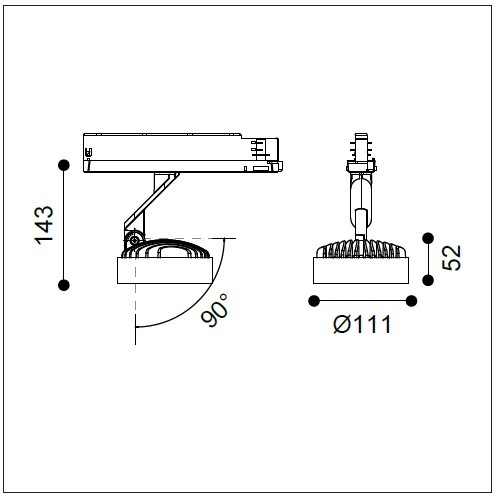 Options
For 15° reflector suffix /15D
For 20° reflector suffix /20D
For 35° reflector suffix: For black finish suffix /35D
For black finish suffix /BLK
For white finish suffix /WHI
For DALI dimmable suffix /DIM
For Casambi enabled suffix /CAS
i.e. Elijah Trackspotlight, 18W, 2208lm, 3000K, 20° reflector, black finish, Casambi enabled =
ELI/3000/3/20D/BLK/CAS
| Part code | Output (lm) | Power (W) | Efficacy (lm/W) | Colour temp (K) | Weight (kg) |
| --- | --- | --- | --- | --- | --- |
| ELI/1550/3 | 1500 | 12 | 123 | 3000 | 1.3 |
| ELI/2210/3 | 2208 | 18 | 120 | 3000 | 1.3 |
| ELI/2870/3 | 2873 | 25 | 116 | 3000 | 1.3 |
Tell me more
About this product