Product Overview
The Anna slimline linear LED luminaire is manufactured from anodised extruded aluminium and is supplied with an opal polycarbonate diffuser. The luminaires can be surface mounted, suspended or recessed and can be fitted as individual fixtures or joined together as a linear, continuous lighting system.
There are multiple lengths available and each length is available in various outputs supplied as 4000K as standard with other colour temperatures available to give the maximum flexibility for various applications. Various options are available including fixed output, dimmable and there are three colour coated finishes available.
Anna
Key features
IP20 suitable for internal environments
Impact rating of IK06
Efficacy of up to 95lm/W
Nominal life-time of >72,000 h (L80/B10)
Colour stability with 3 step MacAdam
High colour rendering index CRI > 80
Emergency BLF = 262lm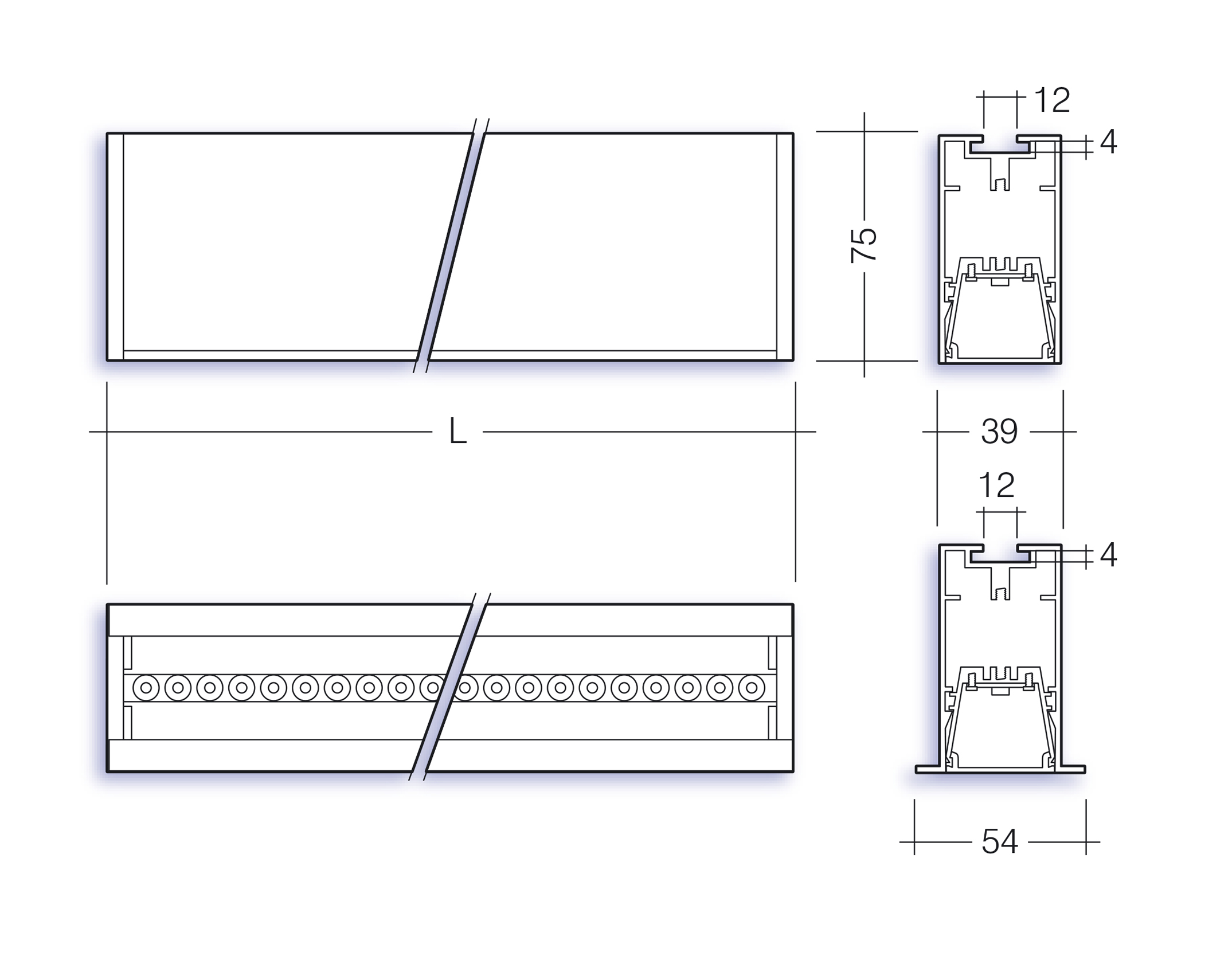 i.e. AN/11/2680/4/S/EMR
Anna LED,surface,1122mm, 2685lm, 30w, 4000K, aluminium Finish c/w 3hr emergency
Options
For black finish suffix /BLK
For grey finish suffix /GRY
For white finish suffix /WHI
For DALI dimmable suffix /DIM
For Casambi enabled /CAS
For 3hr integral emergency suffix /EMR
For 3hr Monitor self-test emergency suffix /MON
For DALI addressable emergency suffix /EMP
4000K as standard, 3000K supplied on request.
CRI > 80 as standard, CRI > 90 supplied on request.
| Part code | Output (lm) | Power (W) | Efficacy (lm/W) | Colour temp (K) | Length (mm) | Width (mm) | Height (mm) |
| --- | --- | --- | --- | --- | --- | --- | --- |
| AN/11/920/4 | 922 | 11 | 83 | 4000 | 1122 | 39 | 75 |
| AN/11/1790/4 | 1791 | 20 | 91 | 4000 | 1122 | 39 | 75 |
| AN/11/2680/4 | 2685 | 30 | 90 | 4000 | 1122 | 39 | 75 |
| AN/14/1150/4 | 1152 | 13 | 87 | 4000 | 1402 | 39 | 75 |
| AN/14/2240/4 | 2239 | 24 | 93 | 4000 | 1402 | 39 | 75 |
| AN/14/3360/4 | 3356 | 35 | 95 | 4000 | 1402 | 39 | 75 |
| AN/16/1380/4 | 1383 | 16 | 87 | 4000 | 1682 | 39 | 75 |
| AN/16/2690/4 | 2687 | 29 | 93 | 4000 | 1682 | 39 | 75 |
| AN/16/4030/4 | 4027 | 42 | 95 | 4000 | 1682 | 39 | 75 |
Tell me more
About this product